EXPORTS ORGANIC PRODUCTS FROM GREECE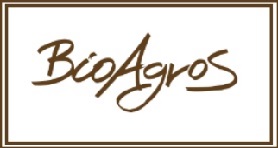 The Organic Greek Strained Goat's Yoghurt "Veloudo" is produced from fresh, organic goat milk. Every day, the farmers collect the milk with their own hands and use the old traditional way of straining the yoghurt in a cloth, called "tsantila". This is how our yoghurt keeps its velvet taste and thick texture that reminds the old times. Enjoy the extraordinary taste & quality of our products!
from 100% goat milk with a perfect velvet taste.
On the verdant hills of mountain Paiko, in Pella, with its dense forests and impressive waterfalls, there are the farms that feed the goats, whose milk is being used in the production of pure goat kefir "Velοudo". The vegetal paradise of Mount Paiko with its natural diversity and fertile land offers unique products of extraordinary quality. Organic Kefir Veloudo is produced from 100% organic goat milk in a traditional way that gives it an indescribable taste and superior quality.
The new playful packs of Bioagros' successful organic breakfast series came to invite our little friends and turn their daily breakfast into fun and play! Favorite children's Breakfast Cereal are available in 4 delicious flavors, Choco Balls, Honey Balls, Choco Flakes and Corn Flakes. They are accompanied by milk or herbal drinks, yoghurt and snacks. Healthy morning full of energy and nutrients that everyone will love, young and old!
Try the 2 incredible flavors of Bioagros' Organic Granola new series! Granola Wheat with sunflower seeds, cooked spinach flakes in coconut oil and rice syrup. Granola Kina & Coconut with oat flakes and rye, raisins, honey and walnuts. Bioagros' Granola is a whole-grain cereal that is cooked until crisp and in combination with seeds and dried fruits, promising a perfect breakfast full of energy and nutrients! They do not contain egg, lactose, sesame, peanut and soy and have little salt.
Organic energy bars "Bite Me" by Bioagros, are the ultimate healthy daily snacks! They give us energy and countless nutritional benefits such as high protein, high fiber and very low salt. The nutritious energy bars "Bite Me" have great taste and they can give you the protein you need wherever you are, whether at home, at the gym, at work or at school. They can be used between meals or as an occasional meal replacement. Therefore, the cereal bars "Bite Me" are the ideal choice for a daily healthy, tasty and high-nutritious snack.
Bioagros' organic "Meat Me" cold cuts, are produced in Greece from high quality organic raw materials, they are free of hormones, antibiotics and other harmful substances for human body. Raising animals humanely is core to our primary mission that is changing the meat we eat.
Bioagros' organic legumes from the Greek regions of Prespa and Central Greece are exquisite, with particular qualitative characteristics and high nutritional value. They are cultivated over a hundred years with the traditional way, without pesticides. Bioagros' organic legumes boil easily without losing their shape, keeping their taste, offering the ability from cooking nutritional traditional plates such as Greek Bean Soup to gourmet plates! They stand out for their taste, shape and organoleptic characteristics due to microclimate areas, rich soil, abundant water, rich flora and producers' care.
In the green mountains of Macedonia under the glorious Greek sun, organic herbs of Bioagros are grown and collected by selected farmers every season, maintaining all their beneficial properties. Essential ingredients of Mediterranean cuisine give flavor and delicious aroma to the food. You can also boil and drink them pleasantly like hot or cold beverages. 17 different organic herbs, such as Lavender, Oregano, Mint, Thyme, Basil, Rosemary, Nettle, Sage, Lemongrass, St. John's Wort, Clandestine mountain tea, etc. are waiting for you to try!.
Our organic pomegranate juice is produced only with the fruit seeds using clear juice technology, peeling off the external and inside skin. In this way the organic pomegranate juice Bioagros, keeps all the fruit's nutritional values and comes freshly pressed and 100% natural in our glass. Low in calories, with no sugars, additives, food coloring and preservatives. You will enjoy it in 200 ml and 1L packs.
EXPORT GREECE ORGANIC PRODUCTS  
Bioagros was founded in 1990 by the agronomist – organic farmer Kostas Papadopoulos. For 28 years we are one of the largest and leading Greek organic food companies offering consumers high nutritional value.

For 30 years we have been one of the largest and leading companies in the sector of processing and trading of organic products in Greece. We have significant expertise in the field of organic products and we are constantly evolving through research and development of new products. We are studying current trends while we are particularly rigorous in choosing raw materials and quality control. Our goal is to meet our modern lifestyle needs and offer natural and beneficial benefits to the human body as well as to improve the quality of life of consumers more widely. Our privately owned headquarters are located in Kria Vrisi, Pella, in an area of 4,000 sqm. At the same time, we have a 2,000 sqm branch in the center of Athens and an office in Sindos, Thessaloniki

We face a human and civilized society that constantly ensures the sustainability of the planet's prosperity.
• We highlight the richness of Greek land.
• We respect the consumer and try to constantly monitor and improve our food quality assurance systems.
• We constantly inform consumers through articles, speeches, and presentations. We want to raise awareness for the relationship between the citizen, society and the environment, for them to get to know our products.
On our factory roof we have a solar par which produces 240.000 kHz annually, corresponding to 170 tons less carbon dioxide into the atmosphere. Our goals:
• Protecting the environment
• Minimizing the use of disposable cartons
• Recycling all the paper, plastic and glass we use.
Care for a sustainable planet

Our continuous effort to protect the environment greatly determines our mode of operation. Our goal is to act responsibly and with respect for human and the environment by implementing energy-saving programmes to reduced garbage volume and reduce CO2 emissions.
Initiatives include:
1. Effective reduction of our carbon footprint by using photovoltaic systems, replacing electricity power to solar power every year with 90%.
2. Rational management of our distribution system.
3. Increase in recyclable materials and packaging.
4. Recycling more than 40 tons of packaging materials per year.
With love for human and respect for the environment!!!

•We sell our products all over mainland and island Greece.
•We export our products in selected stores to the following countries: Albania, Belgium, Cyprus, England, Fyrom, Germany, Lithuania, Netherlands, Romania, Spain, Sweden, Poland and United States of America.
•4,000 sqm privately owned central facilities in Krya Vrysi
•2,000 sqm facilities downtown Athens
•3000 tons cold storage space with controlled atmosphere for fresh fruit, vegetables and dairy products
•800 pallets storage space for frozen products
•More than 300 cooperating producers throughout Greece
•1000 acres direct management
•185 selected suppliers of organic products from around the world
•100 greenhouse partners
•8 modern packaging lines
-Flow pack and tray sealer line for cut salad
-Line for peeling potatoes and carrots
-Line for sorting asparagus
-Flow pack line for fruit and vegetables
-3 film lines of fruit and vegetable films
-Packing line for netting
•16 maintenance and cooling vehicles for product distribution
•3-24 hour ordering service
•2,000 product codes
•About 200 product lines in the categories of dry, refrigerator, freezer
•80 executives and employees
•The only company in the organic sector which can supply all categories: Dry – Chilled – Fresh Fruit & Vegetables – Frozen
•We visit every second day all sale points
•Over 1,000 end sale points throughout Greece
•Cooperation with all organic food stores and most national and reginal super – market chains in Greece
•More than 100 wholesale customers in Greece

•We invest in exports (mainly fresh fruit and vegetables, olive oil, feta cheese, olives, raisins, pasta, pomegranate juice, etc).
•We invest in extroversion that stimulates the Greek economy.
•We export organic products and alongside the Greek civilization.
BIOAGROS S.A EXPORT
GREECE
Central Installations
V. Pavlou 2, Kria Vrisi Pella
T: +30 23820 81660, F: 23820 63827
2. Branch
Ag. Anne 6A, 18233 Renti, Athens
T: +30 210 4250301-2
info@biodiatrofiki.gr
3. Export offices
14th Street 9, VI.PE.TH. D Zone
57022 Sindos, Thessaloniki
Τ: +30 2310 262956, +30 2310 795102
Website :bioagros.gr
Copyright 2021 © COMPANIES FROM EUROPE