EXPORTS CANNED PRODUCTS FROM ITALY
GUSTOPIU DI SANTORO EXPORTS
GUSTOPIU DI SANTORO EXPORTS
GUSTOPIU DI SANTORO EXPORTS
Antipasto Fillet Vaso gr. 300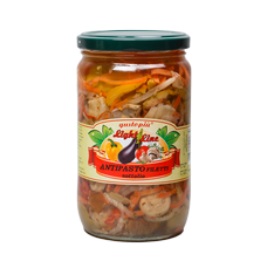 Antipasto Fillet Vaso gr. 700
Antipasto Fillet Vaso gr. 1000
Antipasto Fillet Vaso gr. 3100
Antipasto Fillet Vaschetta gr. 200 Vaschetta gr. 300
Antipasto Pieces Vaschetta gr. 200 Vaschetta gr. 300
Antipasto Pieces Vaso gr. 2300
Antipasto Pieces Secchiello gr. 5600
Artichokes in oil Vascone Kg. 2,3
Artichokes in oil Vascone Kg. 2,3
Gherkins in vinegar Secchiello Kg. 5,6
Spring onions in vinegar Vaso gr. 1000
At the end of 1989, dad Pietro Santoro, is in contact with a small craftsman of conned vegetables. Entusiastically, he informs his son Lillo Santoro, who after his studies in economy, he was in Pisa to perform military service that would have ended after a few months.
So Lillo, eager to enter the world of work, considering that the family situation was not easy, currency with the same enthusiasm the opportunity given by the father.
In the following days they organize and equipe a very essential and small laboratory of 80 sqm and they buy a series of raw materials semi-worked for an amount of Lire 800,000. Lillo Santoro and his sister Cinziana begin the activity of "GUSTOPIU'" in February 1990.
Years of hard insertion combined with great sacrifices.
They buy a first van and then another and a more. In 1999 they make the current company site, located in via Provinciale, in Venetico.
Year by year, "Gustopiù" positions its products in Sicily but also in other italian sites. Over the years, the holder Lillo Santoro realizes a series of investments that allow the company to become a small industry that it increases its production capacity.
Over time the company has added to its range of products while maintaining the original craft packaging, respecting traditional and typical Sicilian recipes.
Today, the company has entered into various distribuitions (GDO), and it sells its products in selected stores in the domestic and foreign.
ITALY
GUSTOPIU DI SANTORO EXPORTS
Strada Provinciale 56, 8 – 98040
Venetico Marina (Me)
Website : www.gustopiu.it
Copyright 2021 © COMPANIES FROM EUROPE