EXPORTS MECHANICAL AND TECHNOLOGICAL EQUIPMENT FROM SLOVAKIA
COMPRESSORS for one dental unit
COMPRESSORS for one dental unit
COMPRESSORS for one dental unit
COMPRESSORS for one dental unit
COMPRESSORS for two dental units
COMPRESSORS for two dental units
COMPRESSORS for two dental units
COMPRESSORS for four dental units
COMPRESSORS for centralized system
COMPRESSORS for central air distribution system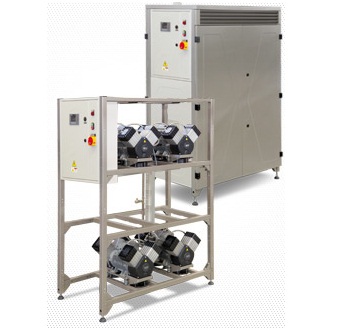 COMPRESSORS for central air distribution systems
COMPRESSORS for central air distribution systems
ABOUT US
The company began under modest conditions – two rented workshops and one office. Its advantage, however, was the six founders, who all had a great deal of experience in the development and production of medical equipment. The company's name is derived from their main product, ecological compressors, abbreviated as – EKOM. "Our compressors are unique due to their oil-less construction. Thanks to an appropriate combination of materials they operate without lubrication oil, which is why the air that they produce is clean, and free of oil vapours and odours," says engineer Vladimír Bátora explaining the uniqueness of their product.
In 1992, EKOM produced its first compressor. Today they are nearing almost 14,000 compressors produced yearly with approximately 170,000 already in operation throughout the world. Presently, a team of 190 employees works on their development and production. The EKOM Company has thus become a significant employer in the region. "Our business activities are guided by two priorities. The first is a stable base for our employees and their families, and the second is to make products that do not damage the environment with harmful waste by-products, but on the contrary, their functional properties contribute to its protection," says Bátora further describing the company's operation.
People are often unaware of the application and importance of compressors in everyday life. Compressors made by EKOM are mostly used in dentistry, intensive medicine, and industry. Their utilization is further clarified by another founder of the company engineer Július Ivan: "For example they are the source of artificial breathing in intensive care units making them an integral part of the life-saving technology. Their air also powers dental equipment, while at airports they are used to help inspect baggage by supporting the x-ray equipment." Beerlovers also greatly appreciate their value at bars where their favourite beverage is on tap as the latest usage is in tapping systems otherwise known as "tank beer". Fashion enthusiasts might also not know that the machine that presses clothing operates thanks to compressors. A wide range of uses in conjunction with quality and oil-free technology ensures the demand for EKOM compressor on the international market. Up to 99% of this Piešťany company's production can be found in 73 countries around the world – from Asia to the Russian Federation to the Middle East all the way through to the USA and Europe. This is precisely why the EKOM Company is known better abroad then at home. Dynamic growth and a consistent use of obtained funds and resources in the further development of the company enabled them, shortly after their establishment, to move to their own premises and to begin considering an extension of the product portfolio. In 2000, the division "Lisovňa" (Pressroom) was created. "This focuses on the production of thin metal sheets. It helped the production of compressors and produces various industrial cabinet components for telecommunication switchboards, electron microscopes, power supplies for IT, also for bank vaults and other applications as well," explains engineer Bátora. There is interest in this division's products by 20 countries mostly from Western Europe, such as Holland and Germany.
According to engineer Ivan, the vision of EKOM is, above all, for the long-term prosperity of the company: "Its premise is a focus on the knowledge of the needs customers, to identify and utilize opportunities, making comparisons with the best, together with a high degree of innovation, production and the full engagement of each employee.                                                                                              
Copyright 2021 © COMPANIES FROM EUROPE